A2A Online SUP Yoga Teacher Training Certification Program
---
Even seasoned yoga instructors are missing some crucial elements if they take their teaching to the water without a formal SUP yoga training or manual. This program is designed to fill in those gaps.

If you are a registered yoga teacher and want to take your love of yoga, water and the outdoors to the next level, the Addicted 2 Asana Online SUP Teacher Training certification course is everything you need to teach safe, fun, and exciting stand up paddle board yoga classes to all levels of students.

If you have ever practiced on a paddle board, you understand that there are some fundamental differences between yoga on a sticky mat and yoga on a floating board. Combined with our book "Get Your Asana on the Water: The Complete Guide to Teaching SUP Yoga", this online A2A certification course teaches you the tools you need to be an amazing SUP yoga instructor.
In this certification course you will learn:
Water safety and how to choose a location
How to pick the right board for yourself and your students
How to prepare for a class
What's different about yoga on the water
Fundamental SUP yoga poses and modifications
How to adapt your classes for different ability levels and the weather
Our unique quadrant based verbal cueing system
Effective communication techniques and how to get students coming back
A guide to planning out your SUP season
Plus much more...

With this program you will receive:
Concise video lectures that deliver the information you need without all the fluff
A copy of our comprehensive teaching manual
An innovative season planning spreadsheet and webinar
Downloadable and printable worksheets for water safety, location scouting, class prep, cancelations, and more for quick and easy reference
Three custom made, ready-to-use, SUP yoga class sequences for beginner, intermediate, and inclement weather type classes
Access to a private facebook group for networking and problem solving
Two 1-hour mentoring calls
SUP Yoga certification upon completion of the requirements (see below)
You will receive the print version of our new book 'Get Your Asana on the Water: A Complete Guide to Teaching SUP Yoga.'

A downloadable digital version of the book is also included in the program so you can get started right away!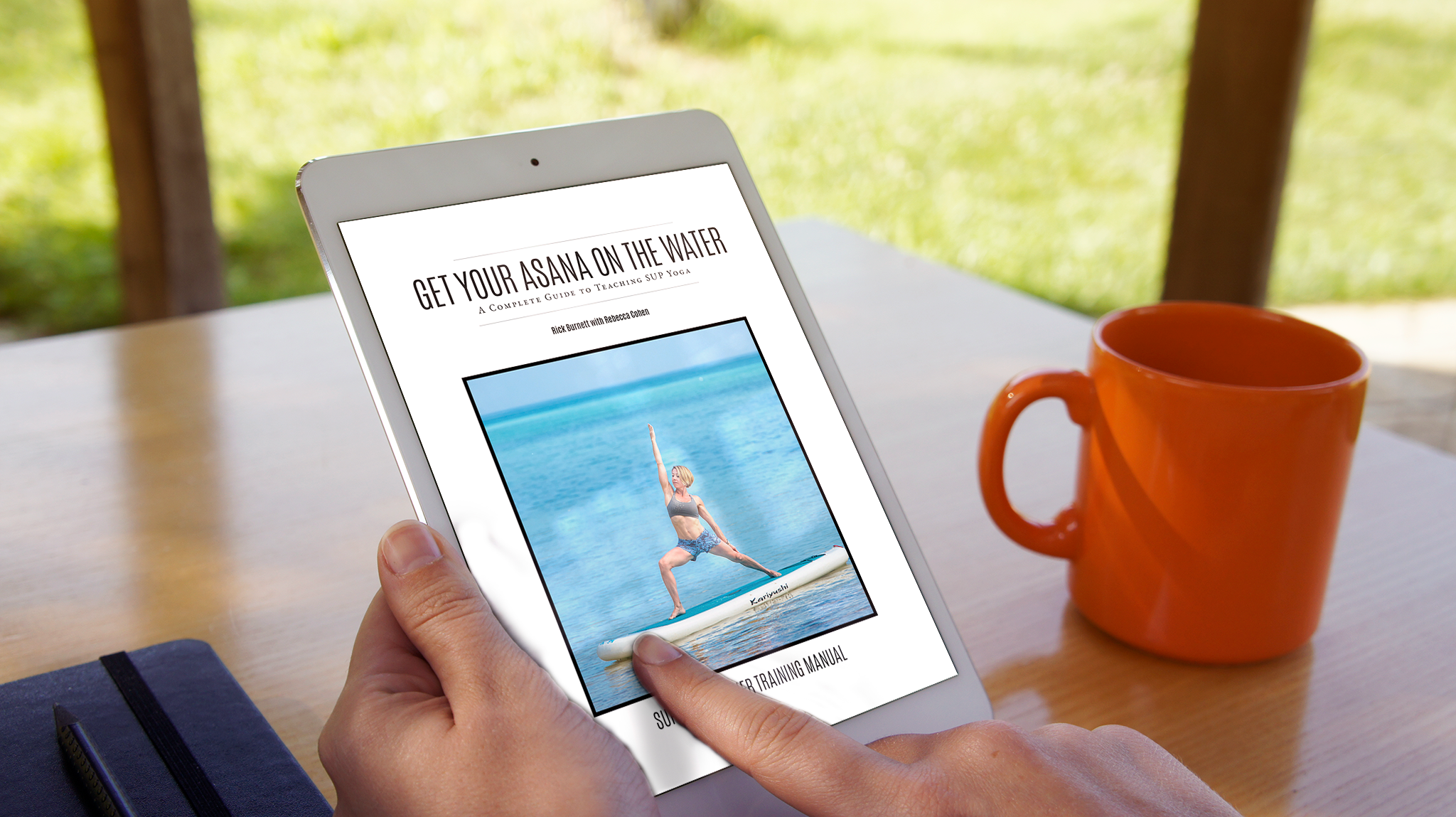 ---
Requirements
For certification, you must possess a Yoga Alliance approved 200hr yoga teacher certification. Upon completion of the course you must provide:
a scan or digital copy of your 200hr YTT certificate.
a video demonstrating the SUP rescue techniques discussed in the program .
a program practicum consisting of a 15-20 minute video of you teaching a SUP yoga sequence.

This practicum can be filmed/taught either on the water or on land.